Testimonials
Below are unedited comments we have received from our Certified Professionals upon completion of the programs.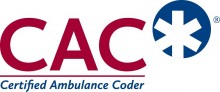 "I had very little knowledge of the billing process prior to this course.  My department uses a third party biller and I felt that we needed training to properly oversee the vendor.  This course provided just what I was looking for and am now much more comfortable in my ability to assess our biller's performance and the documentation from our field medics."
"I did not take this course earlier because I thought it was geared only for coders, but anyone in the organization would benefit from this course as it covers everything."
"The CAC course went above what I expected.  I loved that it had the entire Revenue Cycle incorporated."
"Finally! Expert level training that is specific to the challenges associated with ambulance billing. In an ever changing industry, it is vital to have the level of education that is provided by NAAC . Educating ambulance billing staff was never a top priority, until now."
"This is an excellent course of study for both the seasoned biller or the new employee. It is an EXCELLENT tool for the new biller... giving us the ability to provide a consistent, interactive process to deliver the essential elements of ambulance coding and billing. In addition, it helps confirm the knowledge of the seasoned biller."
"Ambulance coding is so much different than medical coding. A certification for such skills is long over due. Thank you! This course touched on every aspect of the ambulance billing office. It is a great insight to other areas of the department for those who aren't aware of everything else that goes on."
---

"I really enjoyed the training and will use it in my job duties.  Being from a rural volunteer ambulance service we do not readily get much of this information nor do we have the resources to get the education. I feel very fortunate to be able to attend this seminar."
"The CACO binder is my new Bible!"
"This course really helped me understand where our compliance program is, where it ideally will be, and the steps and prioritization necessary to move our program in that direction." 
"Compliance was a "buzzword" until I attended this course. The presentations brought forward the importance of compliance and gave me a good foundation to build on."
"The course exceeded my expectations. Many courses of this type are dry and minimal in anything other than core content. This CACO course was dynamic and well presented. I really appreciated that. I was directed to obtain certification by our board of directors after being formally voted in as Compliance Officer, so the course was timely and relevant."
"I have an existing compliance program, but I know now the importance of creating the Compliance Library. During this course, I was able to readily identify areas that improvement is needed. I can go back now and make those improvements to make my Compliance program better."
---

"I learned so much at this training and it has given me an entirely new perspective regarding how we will approach Privacy in our agency.  I now have the tools to assist our agency in safeguarding our PHI and comply with all aspects of HIPAA."
"So extrememly helpful! I came back to work excited about contributing to our department to make things compliant.  I'm also glad that I have such an excellent resource that I can turn to!"
"This training was way above my expectations.  I gained so much knowledge to better understand the entire scope of being a Privacy Officer."
"This course was eye opening.  There were many facets that I had not considered regarding HIPAA that were presented in the material."
"This course is a "must have" for anyone who has responsibilities pertaining to HIPAA at their organization. This class provides the knowledge and skills that will help you be a successful designated privacy officer."
"Excellent class. I believe I have the tools and information necessary to move our Department towards HIPAA compliance."

"This is the first time someone has brought clinical, billing, and coding together into one series of lectures and demonstrated how interdependent they are."
This class covered in detail all aspects of creating a PCR that can be used for billing, compliance, and legal situations."
"CADS was a fantastic course that broke down the section of information and pointed out the value of thoroughly documenting patient care.  It is great information for providers, but is also beneficial for management, quality improvement staff, and billing departments- all who will interact with the providers."
---
For more information, please e-mail us atCustomerServices@AmbulanceCompliance.com.